Premier Custom Swimming Pools Surf Coast
With over 30 years' experience, Torquay Pools is your one stop shop for all your custom swimming pool and spa needs. Servicing the Surf Coast region, we can bring your outdoor living dream to a reality whether it be a brand-new swimming pool, relaxing spa, complete landscaping, or any outdoor building requirements.
Concrete Swimming Pools Surf Coast
Specialising in concrete swimming pools, we can build a beautifully designed swimming pool to fit any backyard. Concrete swimming pools are considered the most versatile method of building a swimming pool as we can create a truly unique and stunning design tailored to your Surf Coast backyard.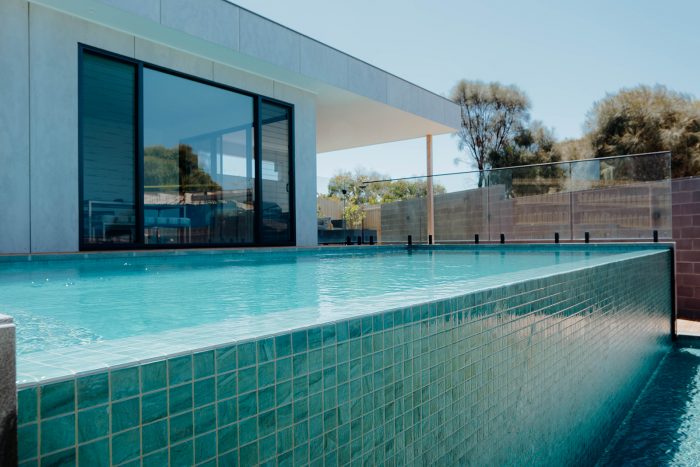 Tiled Swimming Pools Surf Coast
Tiles are the most durable finish for a concrete swimming pool and is much easier to clean and maintain than exposed aggregate. We have a wide range of tile choices to choose from and will guarantee the quality of our tiles will stand up to the test of time and look beautiful in your new swimming pool.
Inground Swimming Pools Surf Coast
Not only are inground swimming pools an absolutely stunning addition to any backyard and a life saver on hot summer days, but they are also a financial investment as they add a significant amount of value to your property. We can work with you to design your beautiful inground swimming pool to fit your backyard that optimises the available space.
Infloor Cleaning Pools Surf Coast
Infloor cleaning pool systems are an amazing method of keeping your swimming pool clean without the hassle of emptying and maintaining a pool cleaner or scooping the leaves out with a pool net. The best part is it's completely automatic. The way they work is simple, we strategically place little 'pop ups' around the floor of the pool which work like little water jets, they pop up and spray pressurized, filtered water in a certain direction, all the pop ups work together pushing dirt and debris toward the main drain.
Mineral Swim Pools Surf Coast
Mineral swimming pools are a gentle, healthier alternative to traditional salt or chlorinated pools.
What makes mineral swimming pools so special is that they contain magnesium, and we use only the best from Maytroics – 100% Dead Sea magnesium rich minerals.  Magnesium assists with maintaining a healthy body. Not only can mineral pools rejuvenate and detoxify your body, but they can also reduce stress and anxiety, soothe aches, help with your sleep cycle and it's great for people with sensitive skin.  Definitely worth considering for your pool installation.